Frequently Asked Questions
Questions
---
1. Q. What is the current status of the project?
A. On October 17, 2018 the Minister of the Environment, Conservation and Parks signed a Notice to Proceed for the Relief Line South transit project in accordance with the Environmental Project Report (EPR). Following this, the City of Toronto, TTC and Metrolinx issued the Statement of Completion of the TPAP on October 24, 2018. The completion of the TPAP allows the project to proceed to construction. Preliminary design and engineering is currently underway.
On March 7, 2019, City Council approved the TTC's 10-year transit expansion capital plan that included funding to support a schedule improvement strategy for the project. This new funding will allow for early work opportunities such as:
property acquisition;
utility relocation; and
procurement of tunnel boring machines.
Further funding commitment to finalize design and proceed with construction of the project will still be required.
2. Q. How does the Relief Line project fit into the overall plans for expanding rapid transit in Toronto?
A. The City of Toronto, TTC and Metrolinx are working together to bring more transit to communities across the city. One of the most important rapid transit projects underway is the Relief Line, which will relieve crowding on Line 1 Yonge-University and provide more travel options to transit riders throughout Toronto. The Relief Line is being studied in two parts – Relief Line South and Relief Line North.
Parts of the city's transit network are over capacity today and struggling to meet demand. There are billions of dollars of transit investment committed, new vehicles entering service, and construction underway to expand the rapid transit network and add capacity to the subways, streetcars and GO rail system.
Even with these improvements in place, the Relief Line will still be needed as an important piece of the transit network.
Learn more about Coordinated Transit Planning in Toronto.
3. Q. How have decisions about the Relief Line South been made so far?
A. A subway alignment along Pape Avenue is not a new idea. It first emerged in the mid-1950s, then again in the mid-1980s, and more recently in 2012 as part of the Downtown Rapid Transit Expansion Study. The following are key milestones that have led us to this phase of the project:
2009 – City Council approved the Yonge North Extension Environmental Assessment, contingent on Relief Line and City/TTC commence study to determine need for the Relief Line
2012 – TTC's Downtown Rapid Transit Expansion Study concluded the initial phase of Relief Line and GO Transit improvements would help ease crowding on Line 1 south of Bloor.
2013 – Relief Line identified as part of the "Next Wave" of transit projects in Metrolinx's regional transportation plan, Big Move plan and was identified as a priority for future transit investment.
2014 – City/TTC began the Relief Line Project Assessment to identify the preferred route and station locations.
2015 – The Metrolinx Yonge Relief Network Study affirmed that the Relief Line Project Assessment should continue to meet the required transit needs of 2031.
2016 – City Council approved the Relief Line Initial Business Case and Preferred Alignment for a Relief Line (Pape to Downtown via Queen/Eastern) subject to an assessment of an additional alignment west of Pape, within a local segment between Gerrard and Queen.
2017 – City Council approved the Carlaw alignment within the local segment and directed staff to move forward with a TPAP, and authorized advancing preliminary design (15-30%), with a report back on cost estimates in Q4 2019.
March 2018 – Metrolinx, in partnership with the City and TTC, initiates Relief Line North study
October 2018 – City of Toronto, TTC and Metrolinx issued the Statement of Completion of the Transit Project Assessment Process.
Learn more about the Relief Line Background.
Under the Public Transit Infrastructure Fund (PTIF) – Phase 1, the Government of Canada is investing up to $27.8 million for planning and design work on the Relief Line South. The City of Toronto is matching this funding contribution.

4. Q. What have you heard from the public and stakeholders so far?
A. Key Messages from Public and Stakeholders
There is overall support for the results of the evaluation process that has resulted in the preferred corridor and station locations.
The Relief Line is considered by many to be the top priority transit project and is essential to relieving overcrowding on Line 1.
Decisions on the route should protect for the northern and western extensions (e.g., future proofing).
The Relief Line should support major redevelopment opportunities, such as the Unilever site.
Potential impacts during construction need to be identified and addressed, such as disruptions to the existing streetcar routes, traffic disruption, noise and vibration.
There needs to be good communication with the community during the construction period.

5. Q. What are the potential impacts of the project and how will these be dealt with?
A. Highlights of the Environmental Studies are summarized below.
NATURAL ENVIRONMENT
Potential Effects
Minimal impacts to vegetation, wildlife, and terrestrial habitat due to underground nature of the project and urbanization of project area.
No impacts to critical habitats.
Disturbance/destruction of nests of migratory birds.
Sediment release in Don River affecting fish habitat conditions and vibrations influencing fish behavior.
Increased runoff from the roofs of permanent surface structures.
Temporary sedimentation and soil erosion during the cut-and-cover construction.
Ground movement and settlement associated with tunneling and box structure construction.
Temporary impacts to the groundwater conditions may be expected during construction.
Mitigation Measures
Schedule construction outside of overall bird nesting season (April 1-August 31); where not possible, complete nest surveys.
Restore vegetation following construction.
Implement a monitoring regime of impacts on Don River, such as sediment barriers and a spill response plan.
Implement stormwater treatment measures in the vicinity of surface structures to enhance runoff quality where feasible.
Implement an Erosion and Sediment Control plan prior to construction.
Complete detailed settlement analysis during detailed design; apply ground movement mitigation measures, such as shoring, and implement a settlement monitoring program.
Develop a tree preservation, removal and compensation plan during detail design.
Station and tunnel construction plan will employ strategies to limit groundwater infiltration.
SOCIO-ECONOMIC
Potential Effects
Temporary use of/access to adjacent lands during construction.
Temporary visual effects resulting from construction activities (e.g., stockpiling, storage/laydown sites).
Temporary and permanent property requirements.
Temporary impacts to businesses including reduced visibility, reduced on-street parking, access restrictions.
Temporary nuisance effects during construction (e.g., air quality and noise).
Permanent changes to the visual character of a neighbourhood with the construction of stations and other structures.
Increased potential for tripping and slipping hazards and bike lane and sidewalk closures or detours.
A risk of spills or discharge of pollutants during construction.
Mitigation Measures
Provide alternative access and signage.
Notify and consult with property owners and local residents about construction activities.
Confirm potential access/easement and property requirements and consult with property owners.
Visual screening of construction site to extent possible.
Attention will be paid to the location and design of stations, emergency exit buildings, and other ancillary structures during the detailed design phase of the project. The approval process will include review by the City of Toronto's Design Review Panel.
Explore opportunities for public realm improvements.
Develop spill contingency plan, including clean up procedures.
UTILITIES
Potential Effects
Deep tunneling construction minimizes impacts to utilities, however there may be conflicts, especially at cut and cover works.
Disruptions to services during relocations and switching between permanent and temporary services.
Mitigation Measures
Permanently relocate utilities in direct conflict with permanent works or large utilities that cannot be temporarily braced.
Disruptions to customers will be minimized through discussions with the utility companies and careful planning.
ARCHAEOLOGY / CULTURAL HERITAGE
Potential Effects
Potential to recover archeological resources; Stage 1 Archaeological Assessment including historical data and field review submitted to Ministry of Tourism, Culture and Sport.
Direct of indirect impacts to 101 known or potential properties of cultural heritage value or interest as identified in the Cultural Heritage Assessment Report.
Mitigation Measures
Conduct Stage 2 Archaeological Assessment (AA) per recommendations of Stage 1 AA prior to construction.
Complete further archaeological studies in the event that an isolated or deeply buried archaeological deposit is unearthed during construction.
Conduct site-specific cultural heritage evaluation reports and/or heritage impact assessments during detailed design phase.
Address impacts to properties of known or potential cultural heritage value or interest in Heritage Impact Assessments and mitigated through design modifications.
TRANSPORTATION
Potential Effects
Project will add significant transportation capacity to the eastern half of Toronto, reducing automobile kilometres travelled and improving transit speed and reliability.
Proposed stations have the potential for localized negative impacts due to increased activity.
Construction disruption in cut-and-cover construction areas including:

surface transit routes on Pape, Carlaw, Queen, King, Cherry, and Eastern
subway service at connecting stations on Lines 1 and 2
pedestrian, cyclist, and vehicular movements
vehicle accesses and building entrances/exits for adjacent properties.
Mitigation Measures
Develop traffic management plans during the design phase to maintain vehicle and pedestrian access to streets, driveways and property entrances.
Carry out work in a manner that ensures the least interference with pedestrians and cyclists, and to ensure provision of safe, accessible, and continuous routes.
Monitor traffic volumes on public roads and transit schedules post-construction to identify future issues and develop mitigation measures.
Prepare supporting traffic impacts studies to ensure continued functioning of the road network around each station.
NOISE AND VIBRATION
Potential Effects
Perceptible noise and vibration for the construction of surface infrastructure and the tunnel due to tunnel boring, pile driving, pavement breaking (e.g., jackhammers), earth-moving (e.g., bulldozers, trucks), and material placement (e.g., cranes).
Construction impacts will be temporary in nature; those associated with tunnel boring anticipated to be less than two weeks in any one location.
No anticipated vibration or noise impacts related to ongoing operations of the trains in the tunnels. Noise impacts possible around stations, to be assessed during detailed design.
Mitigation Measures
Comply with City of Toronto by-law for noise and vibration for construction operations, including for allowable operating hours.
Consider alternate criteria to mitigate damage in older buildings.
Monitor vibration during construction near Sumach Station as there is potential to exceed COT by-laws.
Pro-actively communicate with the community and establish protocols for complaints.
Maximize distance between residential areas and construction laydown areas where possible.
Construction equipment will be kept in good repair.
AIR QUALITY
Potential Effects
Generally positive impact on air quality through a reduction in trips made by vehicles.
Temporary construction impacts including emissions from engines of construction equipment, dust emissions from cut and cover and tunneling, demolition, and material handling.
Construction impacts will be of relatively short duration and unlikely to have lasting effects.
Mitigation Measures
Comply with Ministry of the Environment and Climate Change regulations pertaining to Suspended Particulate Matter for construction operations.
Develop and implement a Controls and Methods Plan to address dust suppressant measures during construction (e.g., covering dump trucks, minimizing loading/unloading of soils and washing of construction equipment and vehicles).
Construction equipment will be kept in good repair to control tailpipe emissions.
6. Q. What are the potential property impacts?
A. Subways require a variety of infrastructure at regular intervals along the alignment, including station entrances, emergency exit buildings, fire ventilation systems, and traction power substations. These are required to provide access to the subway station, evacuate subway passengers in the event of an emergency, evacuate smoke from the subway in the event of a fire, and provide electricity for the operation of the subway.
Preliminary property requirements for the new Relief Line South subway have been determined based on the conceptual design work completed to date. More detailed design will be carried out over the next 18 months to more precisely define the property requirements and refine cost estimates. Once the design work is advanced, property impacts may be further refined.
Letters have been mailed to owners of property identified as being potentially impacted based on design work to-date.
City of Toronto Real Estate Services will be responsible for acquiring property for this project. In acquiring property, the City strives to balance municipal and community needs with the rights of the individual property owners. The focus is on negotiating mutually acceptable purchase agreements for the required property.
Once project approvals are in place and property impacts are confirmed, the City will obtain an appraisal, survey and other property-related assessments. Detailed design will be carried out to more precisely define the property requirements. Depth combined with geotechnical conditions and newer technologies will help to reduce potential for vibration/noise.
7. Q. The map shows that the tunnel will be under my home, what does this mean?
A. As illustrated in the graphic below, the Relief Line South is more comparable to the Sheppard Subway as it will be deeper than Danforth, and possible even deeper than the Sheppard line (~18-25 metres).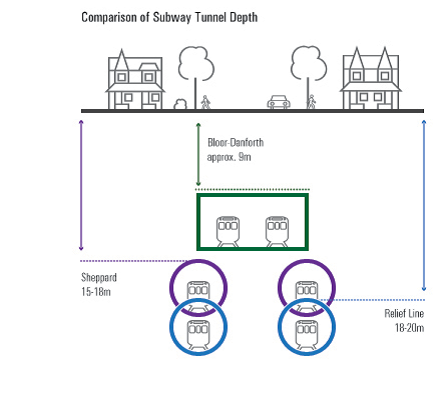 The technology that is used in track design today is much improved from what was used in the past for the older subway lines like Line 2 Bloor-Danforth. The new technology is a "floating slab" system that employs rubber pads beneath concrete ties and additional rubber at all contact points. This dampens the sound so that it is hardly noticeable (between10 to 30 dBA) and was successfully implemented on the Sheppard Subway in 2002.
A three metre easement will be required around the tunnels. An easement is the right to cross or use another's land for a specified purpose and is a right of use, not ownership. Below-grade easements for the subway tunnel and/or structures and a buffer zone area around a subway tunnel and/or structure are required and are not excavated as part of tunnel construction.
Letters have been mailed to owners of property identified as being potentially impacted based on design work to-date.
The two illustrations below show potential location of Relief Line South tunnel scenarios based on twin-bore tunnel technology. Each tunnel would be approximately 5.8 metres in diameter and spaced about 5.8 meters apart. A 3 meter below-grade easement would be required surrounding the tunnels solely as a buffer zone.
Illustrations of Potential Location of Relief Line Tunnels and Easement
Example 1: Tunnels under Public Road, Easement Under Road Right-of-Way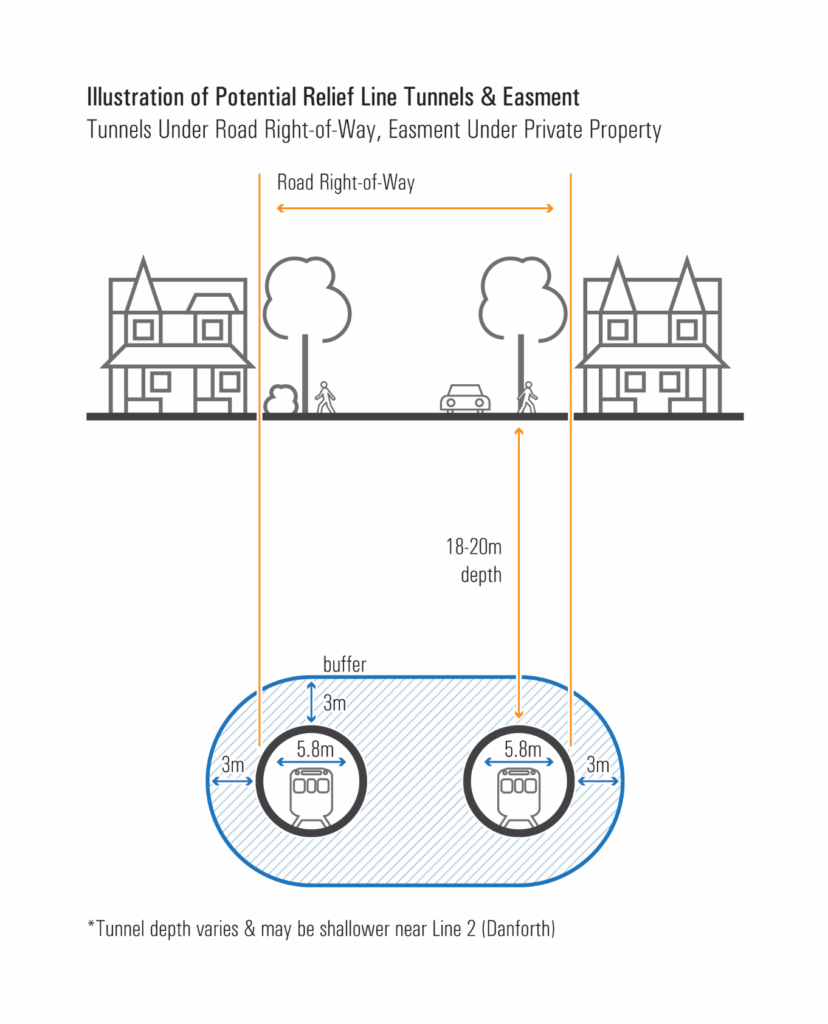 Example 2: Tunnels and Easement Under both Private Property and Public Road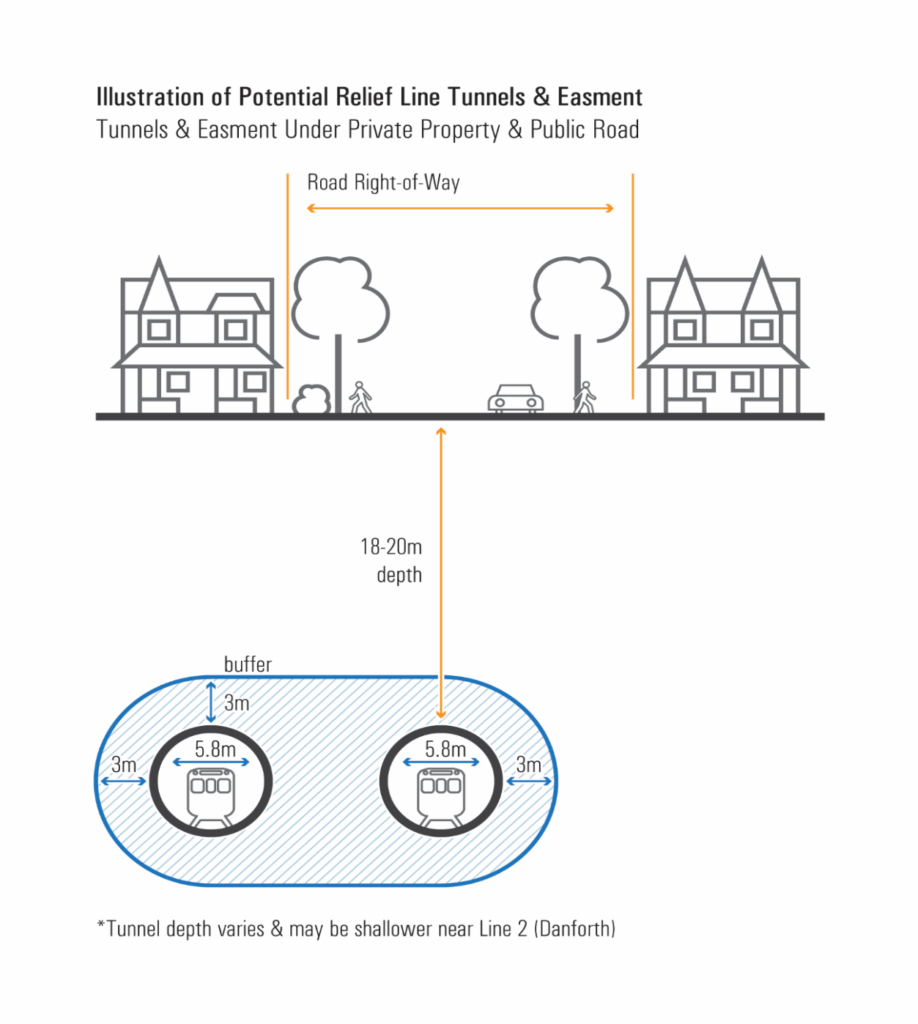 8. Q. How will the value of my property be affected?
A. In general, transit has a positive impact on real estate markets in terms of demand and pricing. An independent real estate study was conducted by NBLC as part of the Relief Line work. The study indicated that following construction of the Relief Line, net positive real estate impacts are anticipated within the area in general, especially near stations. We recommend that you consult a real estate professional to assist you with questions related to your property value.
9. Q. How will the subway construction affect surrounding homes and neighbourhoods?
A. The following provides an overview of how the subway are constructed:
Tunnelling
Two methods are proposed being used to build the Relief Line South. Much of the corridor uses tunnel boring technology to build the subway tunnels while the stations are built using cut and cover construction.
Tunnel Construction
The Relief Line South Subway Twin Tunnels are built by tunnelling underground with Earth Pressure Balance tunnel boring machines, a powerful circular cutting machine that bores a tunnel in soil or rock with minimal disruption to the surface above.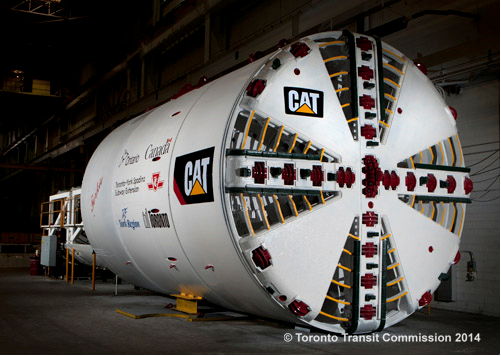 Launch Shafts Near Eastern Avenue
The tunnel boring machines are launched from a deep excavated shaft called a "launch shaft" and bores a tunnel to an end location called an "extraction shaft". The material removed by the tunnel boring machine is moved out of the tunnel by a conveyor system and rail cars to the launch shaft and then transported away by dump trucks.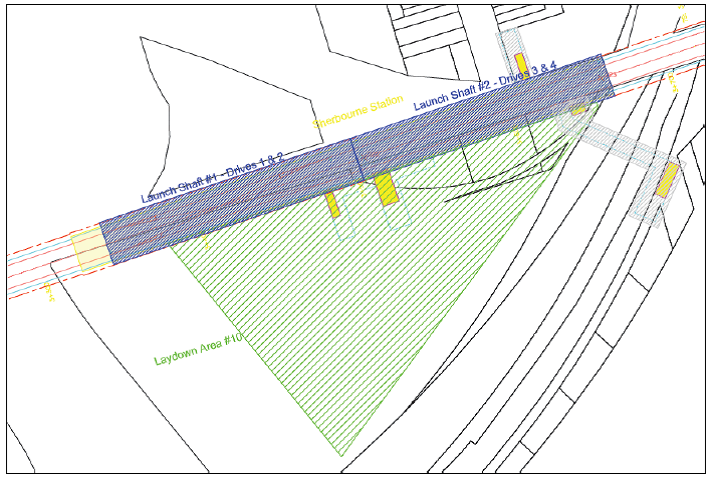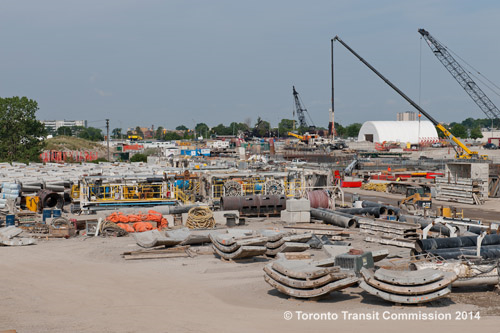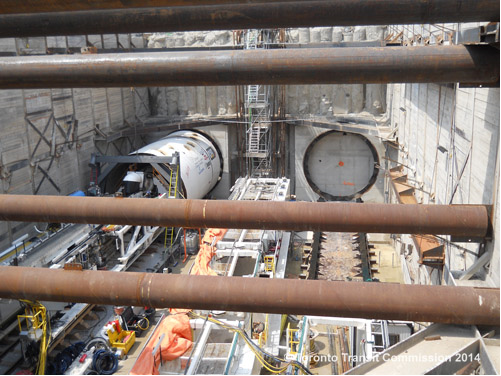 Tunnel Liners
As the tunnel boring machine advances, pre-cast concrete tunnel segments called "liners" are set in place behind the machine to form the tunnel. As they are pre-made off-site, there is some truck activity as the liners arrive on site.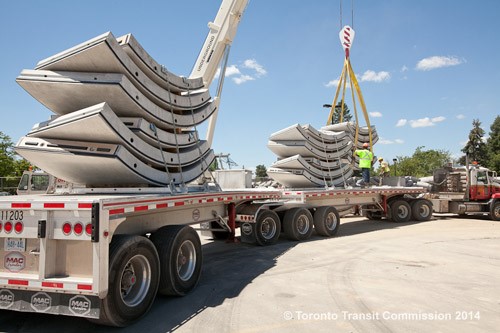 Operations and Extraction
The tunnel boring machine operates 24 hours a day, 7 days a week. Tunnelling takes place deep underground with minimal disruption to the ground above. Once it finishes a "tunnel drive", the tunnel boring machine is broken down into several parts at the extraction shaft and transported by truck to the next launch shaft to be prepared for its next tunnel drive. Two tunnel boring machines drill in parallel about a month apart, in the same direction, to create the twin tunnels for the subway.
A construction staging area, or worksite, is prepared at the launch shaft prior to the arrival of the tunnel boring machine and the tunnel liners. A smaller extraction shaft area is also prepared before the tunnel boring machine reaches its destination.
Tunnel Fit Out
Now that tunnelling is complete, there is a lot of work yet to be done in the tunnels to get them ready for subway trains to ride in them!
Tunnel Stripping
The next step after tunnelling is complete and the tunnel alignment survey is done is to strip the tunnels of all of the equipment used for tunnelling (seen in the photo at the top); rail, conveyor system, ducts and pipes, power, ventilation system must all be removed.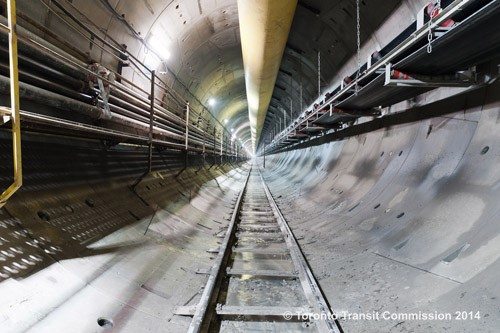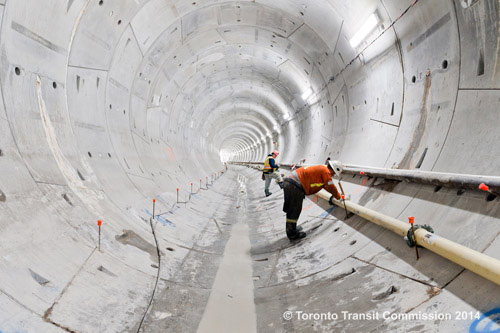 Invert Construction
The invert is the flat concrete slab constructed at the bottom of the tunnel on which the track ties and track will sit. The last step before track installation is forming and building the safety walkways. These walkways also contain conduits that carry cables for the many systems that are required to operate the subway including communications, power, signals, and emergency systems.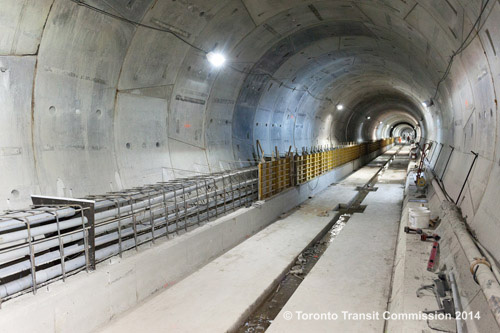 Installing Track
Once the inverts are poured and the curbs are installed, the next stage to ready the tunnels for service involves the installation of track. A specialized contractor is now performing a series of steps to complete this work.
First, concrete double ties (reinforced concrete pads) each weighing 2,400 kg are delivered and stacked in the tunnels in preparation for installation. Next, special vibration isolation pucks, resembling giant hockey pucks, are pre-fastened to the underside of the concrete ties, separating the ties from the concrete trackbed and forming a cushion to absorb noise and vibration. Then a special machine nicknamed "Gizmo" is used to place the concrete ties in the tunnels.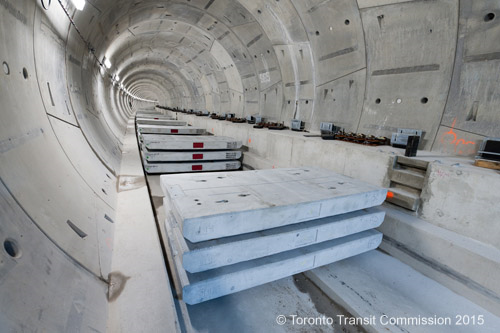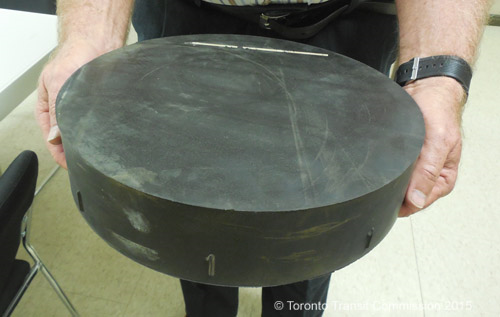 Next, the rail is positioned on and secured to tie plates which are affixed on top of the double ties. A pip-jig supports the rail in the correct position and bolts are then fastened into the holes in the ties with epoxy. A grout pad is then poured under the tie plates, filling the void.